The LCPC and the Industrial Environment and Sustainability (IES) agreed on setting up a strong cooperation framework and signed a Memorandum of Understanding in order to promote Green Innovative Methods, Renewable Energy, Eco-city Projects, Cleaner Production and Technology Transfer in Lebanon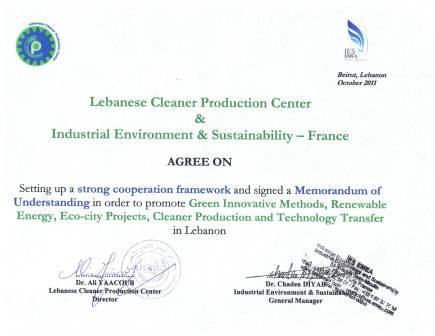 IES is an international operational and strategical consulting firm specialized in the field of environment, economic development and human development in the Mediterranean.
IES assist businesses and organizations to expand and promote them in the Euro-Mediterranean space through their proven innovative expertise.
IES help companies in Mediterranean countries, investors, public agencies and provide them with smart and innovative solutions regarding their environmental issues. IES help them to define sustainable strategies and create partnerships with innovative companies, providing solutions adaptable to their local environment.