The initial seminar is the first step in the In-plant Demonstrations in Industrial sector of Textile which targeted the managers and owners of Small and Medium Enterprises (SME's) under this sector.
It took place on the 30th of April 2009 at the Industrial Research Institute premises- Lebanese University, Hadath Lebanon. Among the presence were the LCPC Director Dr. Ali Yaacoub, the IRI Director General Dr. Bassam Frenn, the UNIDO Regional Representative Mr. Khaled El Mekwad, the President of the Syndicate of Textile in Lebanon Mr. Sleiman Khattar, and the Director General of the MOI Mr. Sami Assi.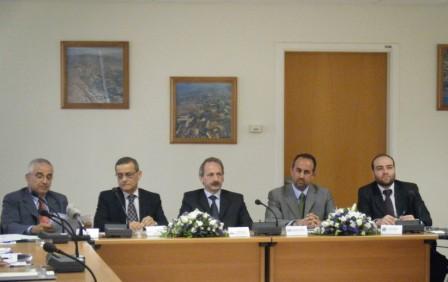 Dr. Yaacoub gave a speech where he highlighted the importance of developing the industrial sector in Lebanon under the changing international economic circumstances. He called for the revival of the Lebanese Industry through improving its quality and developing its processes. Dr. Yaacoub stressed that this could be accomplished through the application of Cleaner Production Processes known internationally in order to be better equipped in the face of the challenges of international conventions and better exports.
Then Dr. Yaacoub declared that the Centre through UNIDO, MOI and IRI with the assistance and funding of the Austrian Governmentwould choose 4 SME's among the attending ones in order to improve them and assist them for free to introduce cleaner production.

Annual Report 2007 & 2008 along with the CD Rom were distributed to the participants in the seminar.


OBJECTIVES OF THE SEMINAR:
Gather all SMEs working in the Industrial Textile sector in Lebanon
Introduce the Cleaner Production Concept and spread the word about LCPC among all SMEs in the mentioned industrial sector
Share the success achieved by the LCPC in the four sectors of Agrofood Canning, Dairy, Paper and Cardboard and Plastic and recycling
>> Back to Our Activities